RMS-10RC
Radio-Com Transmitter & Repeaters Analog / Digital Signals
& Sites Monitoring, Scheduling & Control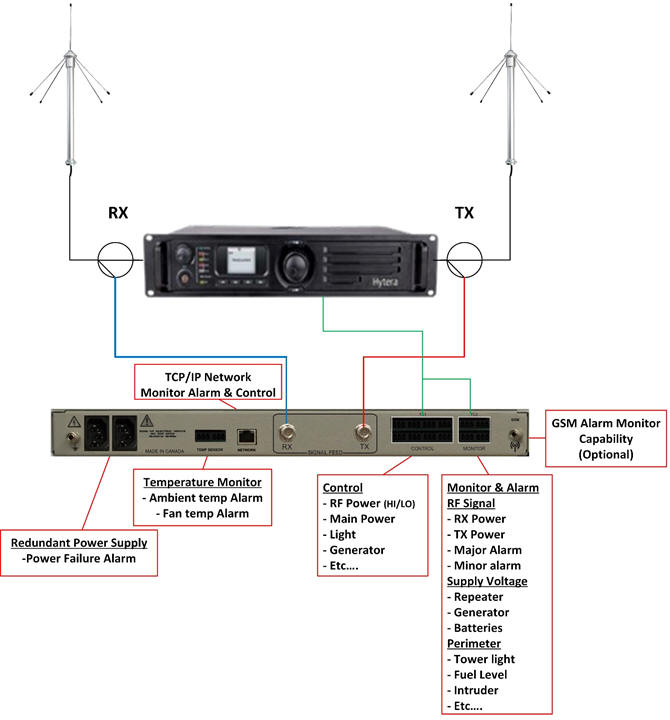 The RMS-10RC is a Radio Signal Monitor & Control Station, designed to provide a complete system solution to signal & site monitoring, alarm and control in remote Analog/Digital Repeater & Transmitters sites. The RMS station incorporates remote monitoring, alarm and control capabilities over Ethernet-IP Networks.
In addition to monitoring the transmitter RX & TX RF power level and detecting abnormal temperature and supply power conditions, also is capable of monitoring and controlling other equipment and the perimeter at the remote site.
The RMS-10RC is packaged in a 1-U high rack-mount chassis, intended for use in remote and unmanned transmission sites. Hermetically sealed units are available for outside use and in environmentally challenging conditions. It incorporates powerful features for quick & ease of installation and setup for remote measurement and control. It is frequency agile, with remote channel selection and RF Threshold monitor settings from the Web-page.
The RMS-10RC monitors independently the transmitter forward (TX) power or carrier level multi channel application, and the received (RX) RF Level indication and alarm Threshold setting from the Web-page over TCP/IP Networks.
Optionally, Reflected power at Transmitter / Repeater output can also be monitored with threshold alarm. The integrated Ethernet/IP port allows SNMP Alarm traps to be sent over Ethernet-IP Networks to designated Monitor & Control Centers (NOC). Alarms can also be set to be sent to selected recipients via E-mails or SMS.
An embedded Web-server allows remote status monitoring & control from any Web-page (GUI), with remote access restriction. Additionally, Remote access allows authorized personnel to set the channel and change the RMS monitor & control default settings and alarm threshold.
Tekron Communication is dedicated to work with Cable Television and Broadcast system operators to provide new solutions to their changing needs
Band/a> CATV Band Return Band Analog Source L-Band CATV Band Return Band