LCM-2FS Stereo FM Transmitter Signal & Site Monitoring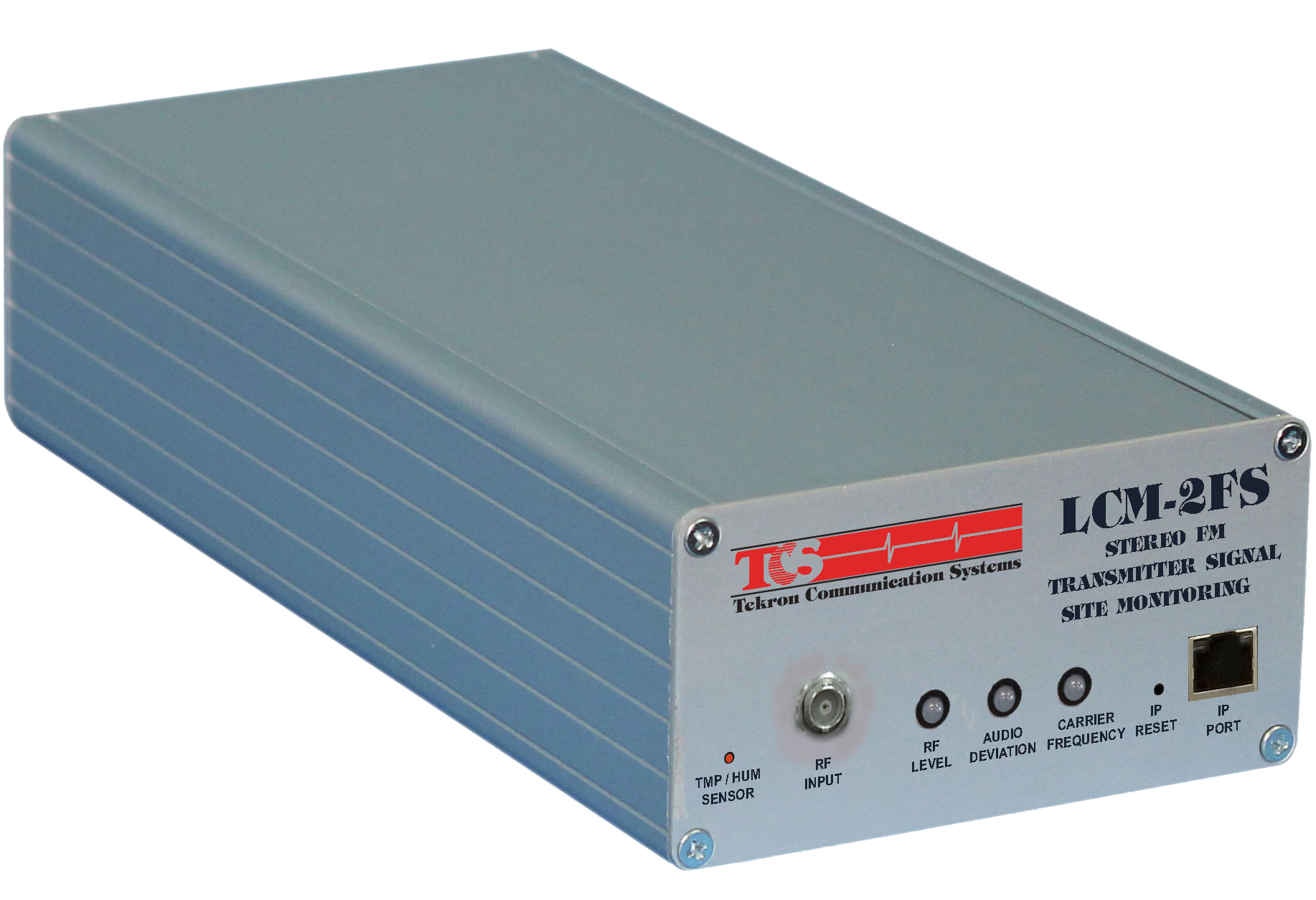 The LCM-2FS is an economical and a cost-effective full-featured solution to Stereo-FM Transmitter Signal monitoring & alarm, and Site equipment monitoring & control over Ethernet Networks.
It is fully agile channel selection & alarm-threshold setting, for advanced monitoring of RF-level, Carrier Frequency, Audio Deviation and Audio Presence.
It also incorporates site Temperature & humidity alarm-monitoring, with additional analog/digital inputs, real-time & scheduled controlled outputs for remote site monitoring, alarm and control applications.
- RF level monitoring
- Audio Presence
-Audio Deviation
-Monitor Transmitter Carrier Frequency
-Built-in Temperature & Humidity Sensor
-Embedded event-scheduler
-Real time alarm status
-Scheduled and real time Control
-Remote Access TCP/IP Web interface & SNMP
The embedded scheduler is designed for remote event-scheduling of the controlled outputs for remote test & verification.
The embedded Web-server is designed for remote monitoring & control from a Web-page using any Web-Browser, with alarms sent via SMS, E-mails and SNMP-traps over the Network to designated recipients or monitor centers.
Ease of use Features:
-Signal monitoring from a single RF-input BNC connector to monitor RF level, Frequency and audio
presence & deviation.
-Remote setting of FM monitored channel from the Web-page GUI.
-Remote setting of Signal monitoring alarm-Thresholds from Web-page.
-RF-level display on Web-page, with signal parameters status. Configurable analog/digital monitoring
of each voltage/contact input.
-Configurable controlled outputs for TTL and contact closure operation.
-Configurable controlled outputs for momentary or latched operation.
-Built-in calibrated Temperature & Humidity sensors with alarm threshold setting and Web-page real-
time measurement display.
-Logging of monitored signals & external inputs, and scheduled outputs.
-IP-address, SNMP-alarm and Email-alarms are all set from Web-page.
Tekron Communication is dedicated to work with Cable Television and Broadcast system operators to provide new solutions to their changing needs/span>/p>
Band CATV Band Return Band Analog Source L-Band CATV Band Return Band