RMS-2AS AM (MW/SW) Transmitter Monitoring System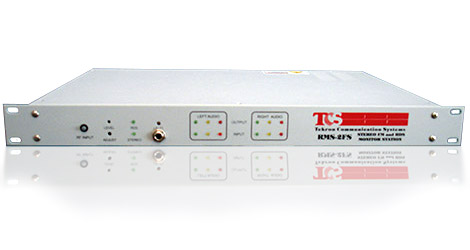 The RMS-2AS AM Monitor Station offers a complete system solution for remote Broadcast transmitter signal and site monitoring, alarm and control. It is designed to monitor both input & output signals of AM transmitters, with external connections to monitor and control other devices and equipment at the transmission site.
The RMS-2AS comes with an integrated Ethernet/IP port. Alarms are typically sent as SNMP traps over Ethernet-IP Networks to designated Monitor Centers. Additionally, alarms can be programmed to activate some of the back-chassis controlled contact outputs, to connect with and sent alarms to an existing "Monitor & Control" system at the remote site where the RMS station is installed.
In addition to SNMP protocol for remote monitor/alarm & control, an embedded Web-server is available for remote monitor and control from a Web-page that can be opened from any Web-Browser over the Network. The Web-page incorporates a setup menu that allows the operator remote access for channel selection and change of default RF level Threshold settings.
The RMS-AS can also be used as a demodulator in emergency situations. However, the demodulated audio output that is available from the rear panel is typically used for audio quality monitoring. Additional rear panel terminals are available to alarm and/or monitor/control via contact closure other equipment & perimeter of the transmission site.
The RMS-AS is frequency agile. It can be tuned to any channel in the AM Band. The desired frequency is set remotely from the Web-page by computer.
Tekron Communication is dedicated to work with Cable Television and Broadcast system operators to provide new solutions to their changing needs
Band CATV Band Return Band Analog Source L-Band CATV Band Return Band