RMS-2FS Stereo FM Transmitter Monitoring System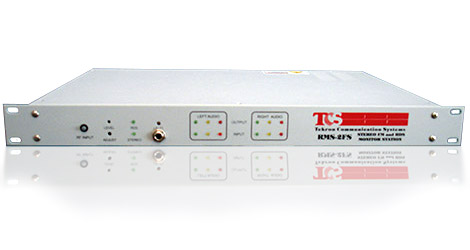 The RMS-2FS FM Monitor station is a complete system solution, designed to monitor the signal at the input and output of Broadcast Stereo-FM transmitters, with external connections to monitor and control other devices and equipment at the remote transmission site.
SNMP Alarm traps are sent over Ethernet-IP Networks to designated Monitor & Control Centers, with an embedded Web-server for remote status monitoring and control from any Web-Browser. The integrated Ethernet/IP port also allows remote access for channel selection and to change the default settings of the RMS station monitor & alarm parameters.
Alarms can also be sent to chassis-back relay outputs for connection to existing SCADA systems at the remote site. The RMS-FS is frequency agile and can be tuned in the (88-108MHz) FM Band in 100 KHz steps. The desired frequency is set remotely from the Web-page by computer.
The RMS-2FS is designed to monitor transmitter and remote site:
-RF level with remote alarm threshold setting & status, and RF level display in dBuv from the Web-page.
-Individual RDS group data presence.
-Demodulated Left & Right audios and audio at the transmitter input.
-Eight contact-closure/TTL inputs to monitor equipment at the remote site.
It is also designed for automatic switching & equipment control:
-Eight relay (1-form-C) outputs to control other equipment at the remote site.
-Relay outputs are reconfigurable to provide alarm output at RMS chassis-back.
-Optional automatic switch for redundancy of transmitter input Network feed.
The transmitter RF output is demodulated and the audio output is available at both the front and rear panels for stereo audio quality monitoring. For remote audio listening, optional audio-stream over the Network is offered.
The RMS-2FS Stereo FM and RDS Monitor Station is ROHS and CE compliant for the European Union and meet all CE Mark requirements. Other models are available to monitor AM/MW & TV Broadcast transmitter signals.
Tekron Communication is dedicated to work with Cable Television and Broadcast system operators to provide new solutions to their changing needs
Band CATV Band Return Band Analog Source L-Band CATV Band Return Band