RSS-2AS Automatic Stereo-Audio Redundancy Switch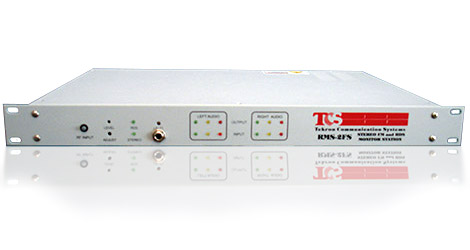 The RSS-2AS station is designed to switch automatically between three (3) Stereo-audio (Left/Right) input feeds to one output, with automatic return on signal restoration. It monitors the main and backup audio L/R inputs for its automatic switching operation, and incorporates adjustable Threshold levels & delays with built-in Hysteresis for each input signal being monitored.
The RSS-2AS is typically used for Monitoring & Redundancy switching applications of Network feeds received at remote FM & AM/MW transmission sites.
Other models are available for automatic switching of Digital and L-Band Broadband feeds, or to switch a larger (NX1) audio input feeds.
The RSS-2AS automatic switch is designed for Fail-safe operation, as it will pass the main audio inputs on power loss to the RSS station. In its standard configuration, it accepts balanced audio (Left & Right) inputs. It can be offered however for unbalanced audio inputs, with internal unbalanced-to-balanced conversion at the output, or to switch (audio-follow) additional audios feeds for each input. It can also be equipped with an internal dual audio tone-generator to replace the third external (emergency) input.
When both primary and secondary (L&R) audio inputs being monitored drop below their respective Threshold level setting, the RSS-2AS switches automatically to the third external video/audio (emergency) input. It will also switch back automatically upon signal restoration with the built-in adjustable return delay.
The RSS-2B switch can be locally forced to either input from the front panel, or remotely by contact closure from the back of the chassis. Tekron communication also offers remote (Network & Dialup) monitoring and switch control capability as with all of its RSS automatic switching products. Remote monitoring & switch control is possible over Ethernet/IP Networks with alarm capability, and/or over a dial-up telephone line with DTMF-tone phone remote control. The Ethernet/IP port incorporates SNMP firmware & embedded Web-server for Network Monitoring, alarming and switch control, whereas the RS-232/serial port connected to a modem can be used for remote monitoring & control from the SMC6 (Windows) software, and/or to control the switch by phone over the same dial-up connection.
Tekron Communication is dedicated to work with Cable Television and Broadcast system operators to provide new solutions to their changing needs
Band CATV Band Return Band Analog Source L-Band CATV Band Return Band