MX-81AV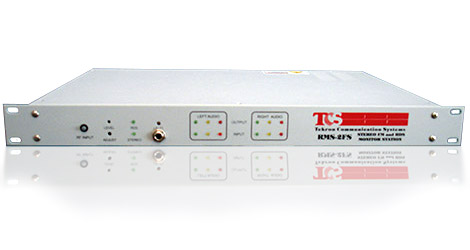 The MX-81 switch is offered in two versions, the MX-81AV for channel substitution at Video with Audio-follow or composite video, and the MX-81RF for channel substitution at IF frequency. The MX-81 has eight (8) Default channel inputs & outputs to pass the default Headend channels, and one Source channel input to replace any (or all) of the Default channels simultaneously.
The MX-81 unit is housed in a single (1-RU) height rack-mount chassis, and is capable of substituting over several Headend channels, with non-blocking and unity-gain switching. Any number of channels can be selected and replaced by the source channel while maintaining the same levels at the outputs.
Several MX-81 units can be linked together to build a larger channel substitution system, connected to a single RS-232 communication port on the scheduling & controlling TCS PC-station. In this configuration, the default channels are looped from one MX-81 unit to the next to build a small matrix configuration (e.g. 8X4). In this instance, several Source channels are available for substitution to replace any of the (8) default channels.
For emergency (EAS) switching applications, the same source channel is looped from one MX-81 chassis to the next, while each default input/output is connected to a different Headend channel. The system is expandable to (128) channels per Headend.
For remote switch control applications, optional communication ports are available for Ethernet/LAN connection or RS-232/modem dial-up connections. In addition to software control, the MX-81 can be accessed over a dial-up line from any touch-tone telephone for DTMF-tone control.
Tekron Communication is dedicated to work with Cable Television and Broadcast system operators to provide new solutions to their changing needs
Band CATV Band Return Band Analog Source L-Band CATV Band Return Band