RMS-100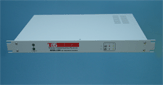 The RMS-100 system has been designed for complete Remote Headend & Hub Site Monitoring and alarm. The RMS station monitors both Video & Audio Carrier levels as well as Video modulation presence of every channel in the CATV band. Contact Closure monitor & control points are also available to monitor and control other equipment at the remote site.
The RMS-100 Monitor Station is an economical solution for multiple small Headend/Hub Site Monitoring & Control applications. It is housed in a single height Rack-mount chassis and can monitor up to one-hundred (100) TV and/or FM channels and perform Complete Remote Site Monitoring and Control with the optional Contact monitor inputs and Contact closure outputs.
Tekron uses propriety communication protocol for communication between the central TCS (PC/Windows) control station and the remote RMS-100 monitor/control stations. The RMS-100 station can also be upgraded for integration to an existing Management Network and Monitoring System.
In main Headend applications, the RMS-100 Station can also be integrated with Tekron S.M.C. (IF Matrix Switching) System to perform complete channel Switching Monitoring and Control, covering:
- Scheduled & controlled IF Matrix Switching of all Headend channels.
- Carrier levels & Video presence Channel Monitoring.
- Automatic Faulty Channel Replacement by same program from other source.
- Automatic Channel Replacement by a Messaging channel, with Video/Audio, Color Bar, or RF Carrier
presence detectors installed in the IF Matrix Switch.
- Remote AC Power Control of individual AC outlets for equipment control.
Tekron Communication is dedicated to work with Cable Television and Broadcast system operators to provide new solutions to their changing needs/span>
Band CATV Band Return Band Analog Source L-Band CATV Band Return Band