RMS-2V TV Channel Monitor Station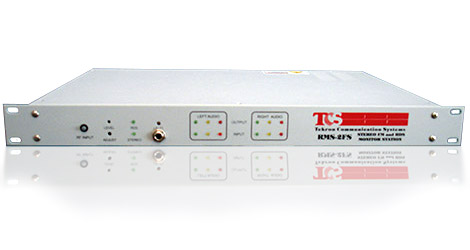 The RMS-2V TV Monitor Station is a 1-RU height Rack-Mount unit. It is designed to interface with transmission site monitoring systems located in remote and unmanned TV Broadcast transmission sites to monitor peak carrier level changes of the Visual and the Aural carriers independently, and video & audio presence at both the input and the output of the TV transmitter. The RMS-2V TV Monitor Station is also useful as a TV demodulator to verify the quality of the modulated video and audio at the RF output of the transmitter.
An optional serial communication interface is available for stand-alone monitoring and alarm operation.
The visual & aural carrier levels being monitored are represented by analog voltage outputs that are log linear over a 10dB range. In addition, two (2) relay contacts per carrier are available to indicate when the carrier level drops below –3dB and –18dB threshold levels.
The presence detectors incorporated in the RMS-2V station monitor the video (Sync.) and audio signal levels of the demodulated RF output of the transmitter and the video/audio feed to the input. The presence/absence of each signal is indicated with (relay) contact closure on the back of the RMS unit, with status LED indication on the front panel.
The demodulation section of the RMS station provides an excellent quality video and balanced audio on the back of the unit for waveform and quality monitoring. It can also serve in emergency situations as an off-air TV demodulator. In addition, a "Zero Pulse" of 120 IRE can be inserted on command from the front panel during the evaluation of the demodulated video signal quality.
The RMS-2V Monitor Interface station is designed to accept a second set of (RF & video/audio) inputs intended for occasional monitoring of a back-up transmitter at the site or the input of a translator. These secondary inputs are selectable from the front panel or remotely via contact closure.
The RMS-2V station is Frequency Agile covering the full range of the TV band. The desired TV (VHF or UHF) channel is selected from a dip-switch on the back of the unit. For more flexibility, a separate setting (channel selection and input level adjustment) is available for each of the Main and the Secondary RF inputs.
The threshold levels and delay before action of the video & audio presence detectors can also be set separately for the (internal) demodulated RF signal and the (external) video/audio feed.
Tekron Communication is dedicated to work with Cable Television and Broadcast system operators to provide new solutions to their changing needs
Band CATV Band Return Band Analog Source L-Band CATV Band Return Band