RSS-2AV RF Pilot Channel Automatic Switch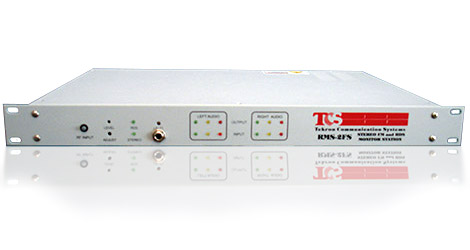 The RSS-2AV chassis incorporates two independent (2X1) automatic video/audio switches with separate stereo-audio inputs, plus SAP audio-follow. It is designed to provide redundancy to TV channels received over fiber, from satellite and other digital transport links. It is versatile in monitoring NTSC/PAL video formats and detecting Video Freeze-Frame failure condition of channels received over digital transport feeds, for which only video sync monitoring is not sufficient.
Each switch module in the chassis can accept two video/audio input channels to switch automatically to the backup input channel when Video-freeze condition is detected, or either the main input video Sync or both Left & Right audios drop below their respective Threshold level setting. The RSS will switch back automatically to the main input after the faulty signal is restored to a level above its threshold setting.
As in all other Tekron RSS automatic switching and redundancy products, the RSS-2AV incorporates a fail-safe design, that will pass-through the main input channel to the output on loss of power to the RSS station.
The RSS-2AV monitors independently the main video and Left/Right audio inputs of each switch module installed in the chassis for its automatic switching operation, and for remote alarming & status monitoring over TCP/IP-Networks.
The RSS-2AV design incorporates adjustable delays (before alarming & switching) on signal drop & restoration, which delays are remotely set from the Web-page over the Network. For added protection, the Threshold circuit is designed with built-in Hysteresis to create a buffer between drop & restore conditions to prevent excessive switching in the event of channel intermittent problems.
The integrated TCP/IP port is designed with SNMP protocol for alarming, Email alarm and remote monitor/control by Network Operation Center over the Network. In addition, it incorporates an embedded Web-Server that allows regional & local technical personal remote access using standard Web browser, for status monitoring and switch override/control from a Web-page. It is also be used to change Network setting remotely, as well as switch delays before switching and disable automatic return & front panel toggle switch.
Tekron Communication is dedicated to work with Cable Television and Broadcast system operators to provide new solutions to their changing needs/span>
Band CATV Band Return Band Analog Source L-Band CATV Band Return Band