RSS-2B Video & Stereo-Audio +SAP Automatic Redundancy Switch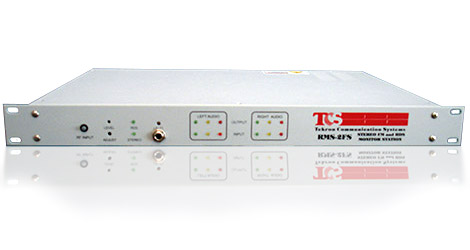 The RSS-2B station is a 3X1 automatic switch designed to switch automatically between three (3) Video and Stereo (Left/Right) +SAP Audio input channels, based on video and audio status of the main and backup input channels. It is designed to work with ATSC digital channels and MPEG decoders as well as NTSC & PAL analog channels.
The RSS-2B monitors independently video Sync level, Black and freeze-frame picture failure conditions, as well as the left & Right audio levels of the main and the backup input channels.
It monitors independently both the main & backup TV channels for its automatic switching operation and alarm monitoring. For that purpose, it incorporates level adjustable Thresholds and delays with built-in Hysteresis, for each signal being monitored.
The RSS-2B automatic switch is designed for Fail-safe operation, to pass the main video/audio inputs on power loss. During its operation, unselected video inputs are 75-ohm internally terminated.
When both main and backup inputs being monitored are in alarm condition, the RSS-2B switches automatically to the third external video/audio (emergency) input. It will automatically switch back upon signal restoration with a built-in adjustable return delay that are remotely set from the Web-page.
The RSS-2B addresses the need for the redundancy of TV channels received over digital transport links such as DSR (Digital Satellite Receiver), Fiber transport feeds or off-air ATSC channel and MPEG decoders, in which case the video-sync is regenerated by the receiver and always present even in the absence of the channel.
The RSS-2B thus offers a complete solution as it monitors L&R audios, video-sync level and video frame-freeze failure condition. The RSS-2B switch can be manually controlled from the front panel, or remotely over TCP/IP Networks to override the switch automatic operation.
The TCP/IP-port incorporates SNMP protocol for alarm, monitoring & control by "Network Operation Center", an embedded Web-Server that allows regional & local technical personal remote access for status monitoring, switch override/control and remote settings from a Web-page using any standard Web browser, and automatic E-mail text-message Alarms.
The RSS-2B is designed for the redundancy of TV channels received at remote CATV Headend/Hub and Broadcast transmission sites, for local access channel program automation, as well as ENG and channel sharing automatic switching applications.
Tekron Communication is dedicated to work with Cable Television and Broadcast system operators to provide new solutions to their changing needs/span>
Band CATV Band Return Band Analog Source L-Band CATV Band Return Band