RSS-2B4.5 Automatic Video/4.5MHz-Audio Switching Station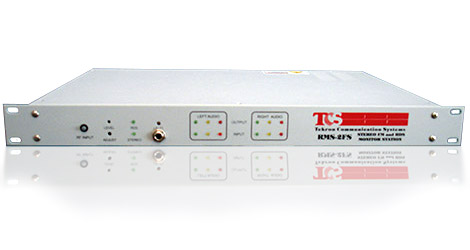 The RSS-2B4.5 chassis incorporates two independent automatic 2X1 Video switches with separate 4.5MHz Audio inputs for video-follow switching. The RSS unit is typically used for the redundancy of Broadcaster Digital and Analog TV channels received at the CATV Headend or remote receiving sites. It can also be used for community & PEG channel automation and channel sharing.
The RSS-2B4.5 is designed for monitoring and automatic switching of Digital channels received over Fiber or via Satellite, in which case the Video "Sync" at the receiver output is internally generated and always present. All Tekron RSS Video/audio automatic redundancy switching stations monitor several of the video & audio parameters for reliable detection of failure condition, alarming, and automatic switching of digital TV channels.
The RSS incorporates TCP/IP port and remote Network monitoring/alarm and switch control via SNMP protocol, embedded server and Email-alert. The RSS also integrates a serial RS-232 port for remote DTMF-tone phone-control over dial-up telephone line. The embedded server allows multi-user remote monitoring & switch override/control access from a Web-page using any Web browser. The SNMP protocol is used by NOC (Network Operation Center) to receive alarm traps with capability for remote monitor & control. Additional alarms can be received by local/regional technical staff via Email-text-message.
Each switch module in the chassis accepts two video with separate 4.5-audio inputs to switch automatically to the output based on video condition, which monitors independently the main and backup video inputs for its automatic switch operation and for remote status monitoring and alarm over an IP-Network. Each input is monitored for video loss or Black output and separately for video Sync level degradation. By default, the switch remains switched to main input if the backup video is detected in failure mode or non-present, with capability of disabling this function and ignore backup input status remotely over the Network.
The RSS-2B4.5 switches back automatically when main input is restored, with built-in Hysteresis and internally adjustable delays, with remote capability over Network to disable automatic return and set/change delays before switching to backup or return to main input.
Front panel status LED are available to indicate video presence and switch position, with a toggle switch for local switch override and control, and design features passive by-pass to pass-through the main input to the output in the event of power loss to the RSS station.
Tekron RSS automatic switching products offer unique solutions to signal back-up and redundancy in CATV Headend/Hub & Broadcast transmission sites, covering Broadband RF & L-Band feeds, digital ASI feeds, analog Video/Audio & IF/RF channels.
Tekron Communication is dedicated to work with Cable Television and Broadcast system operators to provide new solutions to their changing needs
Band CATV Band Return Band Analog Source L-Band CATV Band Return Band