RMS-2RC RF Pilot Channel Automatic Switch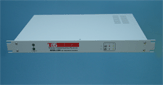 The RMS-2RC is a frequency agile channel monitoring and redundancy Broadband switching station, which incorporates 2-independent automatic switches, offered also with single switch. The RMS-2RC1 single switch station has identical features and performance as the RMS-2RC.
They are both primarily designed to provide redundancy to RF/AGC-Pilot (Analog & QAM) Channels in Headend & Hub site applications. The desired RF-pilot channel to be monitored is selected from the Web-page. With its input wide level range Threshold adjustment, it can be used to monitor the RF-pilot channel at the modulator output and from within the CATV Broadband feed in Hub applications.
In their standard configuration, the RMS-2RC & RMS2RC-1 are supplied with AC (85-235 V) power supply input. Optionally they are available for NEG48V-DC input supply operation.
The RMS-2RC incorporates two independent automatic A/B switches in 1-RU chassis, to provide independent but simultaneous monitoring & redundancy of two RF-pilot channels.
The RMS-2RC monitors the selected analog or QAM RF-pilot channel for automatic switchover (with alarm over IP-Network) to the backup input when the RF level of the main input drops below its threshold setting, with automatic return when the main input is restored above the Threshold level setting with built-in (remotely selectable) Hysteresis. The backup input level is also monitored to prevent blind switching, with alarming capability when level drops below Threshold level setting.
The RMS-2RC features Broadband passive switching 5 MHz to 1GHz with minimal insertion loss, excellent RF isolation between inputs and the return loss throughout the Band to 1GHz.
The RMS-2RC is equipped with front-panel switch override capability as well as LED indication of the switch position and RF-inputs monitor status.
A back-chassis Ethernet TCP/IP port is available for remote monitoring, alarm, switch control and parameters setting. It incorporates SNMP protocol capabilities for "Network Operation Center", with E-mail text-message Alert & embedded Web-Server that allows regional/local technical personal remote access for status monitoring & switch override/control from the Web-page using any Web browser and to receive email alarms.
SNMP-traps and Email alert messages are dynamic in that they include monitored input names as they have been set from the Web-page.
For RF-Broadband & Split-Band redundancy the models RSS-2R, RSS-2D or RSS-6T are recommended for applications such as Hub site fiber-feed transport redundancy, with RSS-3T for the redundancy of Broadband amplifiers & Buffers in the Headend.
Tekron Communication is dedicated to work with Cable Television and Broadcast system operators to provide new solutions to their changing needs/span>
Band CATV Band Return Band Analog Source L-Band CATV Band Return Band