RSS-2VD DSR Video & Dual Audio Automatic Redundancy Switch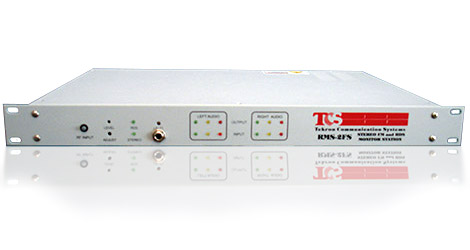 The RSS-2VD is an automatic switch designed to provide a redundancy to analog video/audio channels received from Digital Satellite receivers and Digital Servers. The RSS unit switches to the backup input channel (with automatic return) when either video frame-freeze (or loss) condition is encountered, or when both (left & right) audios are absent.
The RSS-2VD is designed for Fail-safe operation to pass primary video/audio input channel on power loss, with unselected video input internally (75-ohm) terminated. It is designed with adjustable delays before switching for each of the signals being monitored, including a delay for automatic switch-return on signal restoration. Individual Threshold adjustments are also available for each of the main audio inputs.
Because the RSS-2VD monitors both of the main and backup inputs, it will only switch to the backup input when it is detected and is not in alarm condition.
Other RSS automatic switch models are available with Black level & video sync level detection. They are also suitable for detection of video fail condition of channels received over digital transport medium. The RSS-2VD incorporates local & remote status monitoring, with alarm and control capabilities.
The RSS automatic operation can be thus interrupted to select the desired input from either the front panel with status indication, or remotely over Network via an integrated Ethernet/IP port and over dialup line via DTMF phone-control.
The Ethernet/IP & RS-232 ports are capable of remote monitoring, alarm & control. While the SNMP protocol is used for alarming to and remote monitor/control by NOC "Network Operation Center" over the IP-Network, an embedded Web-Server allows regional & local technical personal to remotely access (password protected) the RSS-2VD for status monitoring & switch override/control from a Web-page using a standard Web browser. The Serial port is used with an external modem to override/control the switch by DTMF (phone) switch control commands over telephone dial-up line.
Tekron Communication is dedicated to work with Cable Television and Broadcast system operators to provide new solutions to their changing needs
Band CATV Band Return Band Analog Source L-Band CATV Band Return Band