RSS-3L L-BAND MULTI-FEED AUTOMATIC REDUNDANCY SWITCH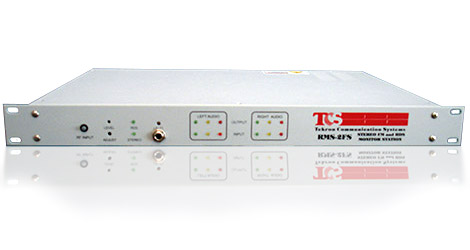 The RSS-3L station incorporates six (3) Automatic switching modules that monitor independently the L-Band feeds (950-1450 MHz) received over a Fiber Link or from satellite, with automatic switchover to their respective backup feed upon detection of failure of the main input. The Threshold level below which the output will switch to the backup feed input is front panel adjustable for each automatic switch module in the chassis.
The RSS chassis is equipped with front panel and back-chassis connections for local & remote Status Monitoring of signal level & switch position, and for remote Switch Control of each switch module independently.
An integrated Ethernet/IP port is also available for remote monitoring, alarm and switch control over the Network with SNMP protocol and embedded Web-server from any Web-browser.
RSS Automatic Redundancy Switch offers a high isolation environment between feeds and minimal insertion loss with a passive pass-through of the main L-Band feed input on power loss to the unit.
Other RSS products are available to monitor 1GHz Broadband Trunk, RF Return Band and Single channel (Vide/Audio or ASI) feeds for Automatic Redundancy Switching in disaster recovery applications.
Tekron Communication manufactures products and offers complete system solutions to remote site signal Switching Monitoring & Control applications in CATV Headends/Hubs & Broadcast transmission sites.
Tekron Communication is dedicated to work with Cable Television and Broadcast system operators to provide new solutions to their changing needs
Band CATV Band Return Band Analog Source L-Band CATV Band Return Band