RSS-6AV Video / Audio Multiple Channel Automatic Switching Station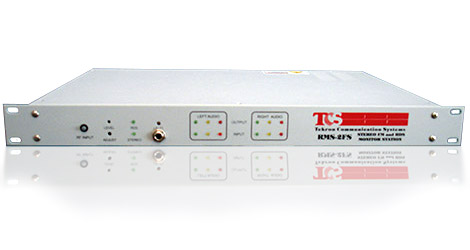 The RSS-6AV is a 2-RU chassis that incorporates six (2X1) automatic video and stereo-audio (channel) with SAP audio-follow switches. Each switch module monitors the main input Video and L/R audio inputs for alarming and its automatic switching operation. An Ethernet IP-port is incorporated with embedded Web-server and SNMP protocol for alarming over the Network and for remote monitor and switch override/control of each switch in the chassis.
The RSS-6AV is typically used for redundancy and disaster recovery applications. It is installed in remote CATV Headend where several channels need backup and thus provide redundancy to TV channels received over (Fiber/STL) transport links or Satellite from the Master Headend. It can also be used to provide reciprocal backup between two remote Headend sites.
Other RSS models are also available to complement the RSS-6AV in TV channel redundancy switching applications at ASI level (RSS-2ASI & RSS-6ASI) for example, or where more input channels need to be switched to a single output (RSS-2B3X1 & RSS-4Eng 5X1).
The RSS-6AV monitors independently the video and audio inputs of the main channels inputs of each switch module in the RSS-6AV chassis, for its automatic switching operation and for remote status monitoring and alarm over an IP-Network.
The IP-port incorporates an embedded server that allows multi-user remote access for monitoring and override/control of the switch from a Web-page using any Web browser. It is also SNMP protocol compatible to send alarms to NOC (Network Operation Center) and remote monitor/control. It also allows out-of-band access over a dial-up line for emergency control of the switch by phone.
A new video monitoring feature has been added in 2009 to the RSS-6AV. It is now capable of monitoring video freeze-frame failure condition. As such, it monitors independently for video "Black" & freeze-frame output conditions, video "Sync" & Left/Right audio level drop to Threshold-alarm levels. This capability makes all Tekron RSS Vide/audio automatic switching models, very versatile for multiple source (digital & analog) switching applications, and especially suitable for digitally received channels (over Fiber or satellite) in which case the Sync is regenerated and the video is always present at the receiver output.
With the addition of video-frame freeze detection capability, the RSS automatic switches offer a solid solution to MPEG decoder redundancy applications.
Tekron Communication is dedicated to work with Cable Television and Broadcast system operators to provide new solutions to their changing needs/span>
Band CATV Band Return Band Analog Source L-Band CATV Band Return Band