RSS6-T RF-Channel & Broadband Automatic Switching Station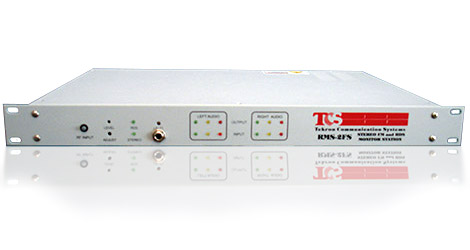 The RSS6-T is designed for the redundancy of analog and QAM RF channels, as well as CATV Broadband feeds in Headend and Hub sites. The RSS automatic switching station incorporates six (6) independent A/B switches. Each switch module monitors independently the main & backup input feeds for its automatic switching operation and for remote status monitoring & alarming over TCP/IP Networks.
The RSS6-T automatic switch covers a wide input RF level range and incorporates front panel Threshold adjustment for each input being monitored. It can be used to monitor feeds before or after Broadband amplifiers, after Fiber receiver, or monitor a single TV channel or QAM channel in the 5 MHz to 1GHz CATV Band. Because it continuously monitor the main and backup inputs, it will only switch to the backup input feed when the RF level of that input is present and above its threshold setting.
The RSS6-T incorporates front-panel switch override capability as well as indication of switch position & level status. An Ethernet/IP port is available for remote monitoring, alarm and control of the RSS station via SNMP protocol & Web-page. A serial port is also available for connection to modem for dial-up DTMF-tone (phone) switch control in emergency situations. The remote control of the switch overrides in this case, the RSS switch automatic operation as well as the front panel toggle switch. Optional back-chassis terminal connections are also available for local/remote monitoring and switch control via contact closure.
Other RSS models are also offered for automatic switching applications in the Headend and remote Hub sites for the redundancy of:
- Analog & Digital video/audio channels
- DVB-ASI & SDI Digital TV Channel feeds
-Split-Band RF-Broadband feeds
- RF Broadband feeds
- L-Band (LNB) Broadband feeds
Tekron Communication is specialized and offers solutions to Remote Site Switching Monitoring & Remote Control (SMC) applications in CATV Headend/Hub sites and Broadcast transmission sites. A short list of available models can be found on the last page.
Tekron Communication is dedicated to work with Cable Television and Broadcast system operators to provide new solutions to their changing needs
Band CATV Band Return Band Analog Source L-Band CATV Band Return Band