SMC128 MATRIX SWITCH SCHEDULING & CONTROL SOFTWARE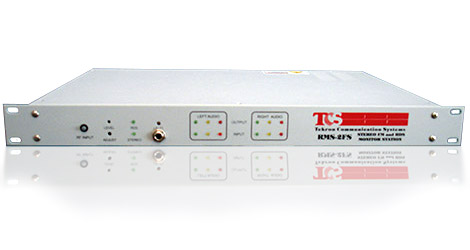 The SMC software application was initially developed to offer CATV operators a complete system solution to perform scheduled switching & substitution of all the channels in the Headend at IF frequency or Baseband video/audio, as well as provide remote control of equipment at the site. The SMC software installed in the TCS control station runs under Windows XP / 7/ 8 and Windows-NT Operating Systems.
It is offered as a:
Software Solution: To schedule & control existing Video & Digital Routing Matrix on the market, such as the "Horizon" Grass Valley (128X128) Baseband Routing Matrix or the Leitch video routers to name a few. New protocol drivers are added on request for routers not currently supported.
Complete System Solution: To schedule & control channel switching in the Headend at IF frequencies. The SMC software controls in this case Tekron's MX-1600 (IF) Matrix Switch chassis integrated as one Large Matrix for (128) Headend channel switching.
The SMC system configuration would typically consist of a PC/Windows (TCS) Control Station in which the SMC is installed, and either Multiple MX-1600 IF Matrix Switch chassis for IF channel switching or a Video/Audio/Digital Routing Switch for baseband channel switching. The system can be configured to also provide Contact Closure controlled outputs, and Light Status Interface of the Matrix to a TV wall display unit.
The TCS Station controls the Matrix switches and contact closure interface from a single serial RS-232 communication port. Channel switching and contact closure can be remotely controlled by DTMF-tone from any touch-tone telephone or from a remote computer over a dial-up line, a dedicated link, or a LAN connection.
The IF Matrix Switch (MX-1600) is modular in design, and accepts (16) Source channel inputs for switching to sixteen (16) outputs. Additionally, (16) Default channel inputs are available and are dedicated to their corresponding Default output to provide fail-safe passive pass-through of the default Headend channels during power loss or on command.
The MX-1600 is designed for non-blocking switching at unity gain regardless of the switch combination. The baseband version of the MX-1600 matrix switch accepts composite video signals with 4.5 MHz audio. For video with audio follow switching, an audio/stereo matrix with the same configuration is added to the S.M.C. system.
Tekron Communication is dedicated to work with Cable Television and Broadcast system operators to provide new solutions to their changing needs
Band CATV Band Return Band Analog Source L-Band CATV Band Return Band